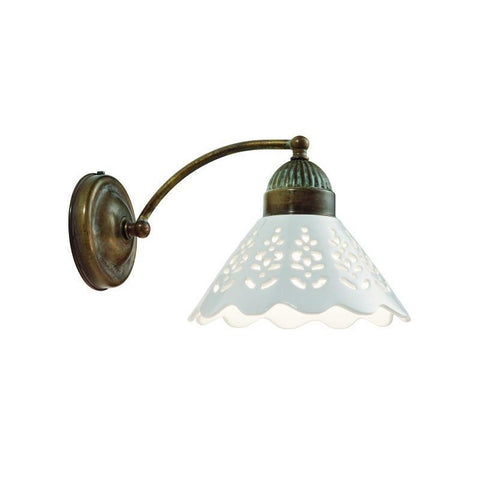 Fiori Di Pizzo Wall Light
Fiori Di Pizzo Wall Light
Brand: IL Fanale®
Category: Wall Lights
Description:
Fiori Di Pizzo Wall Light from Il Fanale
Height: 25 cm
Diameter: 18 - shade / 10 - base cm
Materials and Finish : ● Brass, Antique
 ● Fretted Ceramic, White

Lights: 1
Lamp: E27 Max 46W Halogen GLS -LED 8w
ABOUT THE BRAND
The story of Il Fanale Group dates back to 1979 when Fausto Dalla Torre and his wife Luisa Martin, decided to embark on an extraordinary journey.
The Made in Italy is the Company hallmark: the production blends with sublime handicrafts and latest illumination techniques.
The clean and elegant traits complement the Italian manual handcrafts, creating lamps with balanced volumes and creativity.
With applications from 4 major categories (internal lamps, external lamps, garden lighting and street furniture) there are plenty of items to choose from.
Availability: 4-6 Weeks
---
We Also Recommend